Six weeks has flown by! In a way, it seems like much longer that Jack has been with us- Probably because our lives have completely and utterly changed in those six weeks. Every single thought of my day now revolves around taking care of him, and keeping my family and household up and running. Daron has been a indispensable partner in this parenting thing, and I think we're doing a pretty good job so far! Jack had a great checkup this week, and his pediatrician says that he's perfect. I already knew it, but confirmation is nice.
Some facts about Jack:
1. He still hates the swing.
2. He's in between sizes right now. Somewhere between NB and 0-3
3. Weighs 10.5 lbs this week
4. LOVES his bath. See below..
5. Loves to snuggle. Would rather be held than anything else.
6. Bought his first plane ticket to Grammy's house this summer!
7. Is finally sleeping a little better at night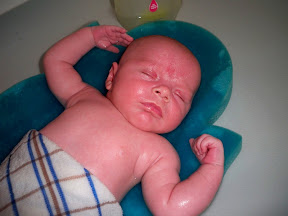 Yep, here's Jack asleep in the tub. He got so relaxed tonight that he just konked out! I told you he loves a bath....
Elisa