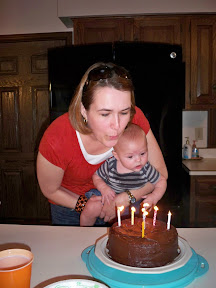 Want to know who is Six months old today??? -----> THIS GUY <-----
Some fun facts:
1. I suck on my washcloth in the tub, and scream when mom takes it away
2. I'm Daddy's little buddy, and the apple of Mom's eye. They love me!
3. I like to snuggle in the morning before everyone starts getting ready.
4. If it's smaller than my fist, I'm going to put it in my mouth.
5. Drool. Constantly. See photo above. Bibs are my new accessory.
6. Awkwardly in between 6 month and 9 month sizes.
7. Peek a Boo is this hysterical game that only works for Dad. Mom, not so funny.
8. I'm a happy boy, and not much gets me crabby. I'm a delightful child!
My family is coming out for my blessing and sealing next week. I just cant wait to see everyone!